logbook

Epilogue:Trekking
Epilogue:Trekking in the Nepali Himalaya.
Published 18th April 2002. By Matt Ward and Adrian Snell.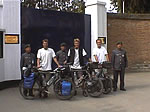 The ride had officially finished and it was time to rest, sleep and rest some more in the beautiful city of Kathmandu. It did sink in, but only after a couple of days - we've made it! The time had now come to do some cold weather equipment shopping for our planned 'CharityTrek(!)' in the Everest Region, North East of Kathmandu.
Our trekking began at Jiri (1935m altitude), an exhausting 10 hour bus journey crawling up and down the Himalayan foothills on a tiny track from Kathmandu. From Jiri it was a further 9 days of walking to the entrance of Sagarmatha National Park and the most important settlement in the area: Namche Bazaar (3450m). It's a pleasant, undulating and slightly strenuous walk that most people don't bother with, opting to fly directly from Kathmandu airport to a small airfield at Lukla (about 1 days walk South of Namche). But for us, it was a perfect 'introduction' walk. Our legs had not done much walking over the past few months and some muscles needed reawakening. As a result we past through many villages and witnessed local porters carrying up to 100kg (!) each of food and supplies for communities and tourists. We also saw a few Maoists dressed in military uniforms and armed with old rifles and pistols. Luckily for us, their war is only with the Nepalese army and police - not with tourists.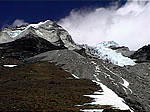 That was the main reason why, and lucky for us, there were very few tourists in the region for the first couple of weeks. Over the past few months the Maoists (a peoples' uprising who wish the country to become communist) have become more active and Nepal has been in a state of emergency for the last 7 months because of it. These guys are gradually becoming more and more organised and kindly attacked the airport at Lukla shortly before we set-off from Kathmandu! Nothing happened fortunately while we were in the area.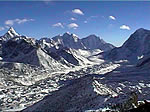 After a welcomed rest in Namche Bazaar, the trails go up, up, up making the trekking more difficult and strenuous. The effects of Acute Mountain Sickness (AMS) became more noticeable due to the lower levels of oxygen at the higher altitude. At 4000m (slightly higher than Namche) there is about 40% less oxygen than at sea level. This makes any physical effort more of a challenge and our bodies took a while to acclimatise.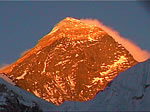 From Namche we slowly headed up and East towards the settlement of Chukung, where we made a side excursion to Island Peak Base Camp (5150m). This was our first real 'Himalayan' experience as we ascended into an area with outstanding mountain views and good weather.
The next stage was a 3 day trek back West and North into an adjacent valley and up to Gorak Shep (5170m), possibly the highest place in the world with a lodge and restaurant! Again the outstanding natural beauty just surrounds you, and it is quite difficult to take it all in. Later that evening we started climbing Higher Kala Pattar, a 5635m peak which is the most popular viewing point in the whole region and the highest point for us on the trip. We froze our extremities off waiting for sunset up there, but the wait was well worth the discomfort because the surrounding mountains and sky lit up red and orange just before the sun finally set. The pyramid shaped summit of Everest (pictured) suddenly started to glow a deep red and we were reduced to speechless wrecks! Quite an unforgettable experience that none of us will quite forget.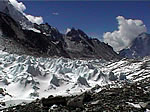 Gorak Shep is also just a couple hours walk from Everest Base Camp. This is a large rocky area within the Khumbu Glacier where expeditions commence their mammoth climb to Everest summit. Surrounding the site is the large Khumbu Ice Fall, which is the first and most dangerous stage of climbing to the highest point on earth.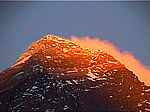 It was in the Gorak Shep area that our down jackets and sleeping bag liners really proved their worth. It was freezing cold, especially at night. The temperature went down to around -15'C and getting up in the morning was not pleasant at all!
We continued over into the next adjacent valley to visit the Gokyo Lakes and the largest Glacier in Nepal. To do this we to descended down to Phortse and then back up to Gokyo village. By this stage of the trek we were all getting tired, but the extra work was well worth it because Gokyo is so beautiful. We all went up Gokyo Ri (5340m, a steep sided mountain 2hrs climb from the settlement), with better views of Everest than Kala Pattar and witnessed another beautiful sunset. As the sun went down a layer of cloud covered the valley below and the peaks lit up red again. Absolutely stunning.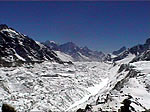 The following day Adrian and Andy decided to head further up the Gokyo valley to the other frozen Gokyo lakes and what is regarded as the most spectacular viewpoint in the whole region - an isolated mountain known as Knobby View. On any normal day this takes around 2.5 - 3hrs to the summit from our lodge. With that in mind we left very early, just after sunset, but we soon discovered the going very tough with hip deep snow in some places. We were warned the night before that no one had ventured North for weeks because of the deep snow. We found following the trail impossibly slow and so decided to follow the edge of the Ngozumba Glacier on its moraine - very steep with 45 degree slopes in places! An Exhausting 5hrs later we had made it to Scoundrels View, still about an hour to the start of Knobby View at our pace! At that point we gave up, cooked lunch and just enjoyed the best view of Everest we had on the whole trip while trying to forget what was needed to get back!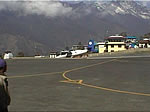 Finally, after a month in the hills, it was time to return to Kathmandu. From Gokyo it only took 3 days to return to Lukla airstrip, where we caught a 45 minute flight back to Kathmandu. The flight itself was a lot of fun, in a small propellor driven plane taking off from a steep downhill airstrip. The noise, vibration and turbulence made it a flight not to forget! We returned to a warm bed, warm weather and good food. We all have unforgettable memories and some photos that need to be seen to be believed. What an utterly amazing month and a perfect ending to our trip......