logbook

Update 10
Update 10 - Göreme to Doğubayazıt, Eastern Turkey.
7th November 2001.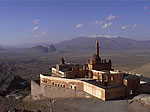 This, the final stretch of our route in Turkey, was COLD! As I write we are now in Doğubayazıt, 30km from the Iranian border and over 1000km from Göreme. Over the last couple of weeks we have seen snow, driving rain, high mountain passes and yet some quite spectacular mountain scenery. We have also entered the Kurdish populated area of Turkey and have experienced a marked increase in military activity here.
As a sign of how lazy Matt and I (Adrian) are, we have both had slow punctures since Selçuk on the Aegean coast, and haven't been bothered to repair them! Every morning for the whole length of Turkey - 1700km - we have stopped at a petrol station in search of the ever needed 'hava'. Doğubayazıt is definitely puncture repair town.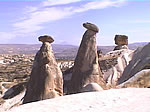 I found leaving Göreme very difficult. It is one of the 'must see' places of the world. What made matters worse was on one of our last nights there we had such a great time in a hot (40-50 degrees) thermal swimming pool overlooking the stars and drinking beer until the early hours. As we left Göreme and made our way to Sivas we also had a lasting memory of the great views overlooking Ürgüp and Cappadocia from the top of the very steep 5km climb on the road to Incesu. Bliss. But I shall return!
We had a rest day in Sivas as Andy had food poisoning. It was worth the rest because we discovered the people of Sivas like their speciality Tavuk Döner kebabs - chicken döner meat wrapped in a large freshly made doughy pizza type bread, 'pide', folded in half and filled with the meat and salad before rolling it into a large baton. It is quite simply the tastiest food I have ever had. We ended up going back to the same kebab place eating more and more of them, and talking football and drinking Çay. If you ever find yourself in Sivas, pop into Gözde Kebab, Subashi Ishani No:1/A.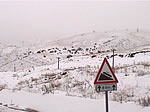 It started to get very cold, very hilly and very wet from here. The road to Erzurum involves climbing three passes over 2100m (of which the last was covered in thick snow). Parts of it reminded me of the English Lake District - rolling hills with rocky outcrops and wet grassland exposure, especially between Erzincan and Erzurum. A more common sight as we headed east were the Kurdish shepherds roaming the high hills all day looking over their flock as they give us a wave.
Republic day (29th October, Tercan) saw a military like procession of school kids marching to the drums holding a picture of the national hero of Turkey, Atatürk. This is a very important day for Turks and marks the proclamation of the republic in 1923. By chance it was also on this day we saw an exact Gary Lineker body double with same hair and mannerisms presenting Turkish football! It was quite amazing!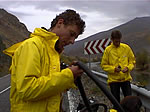 The road to Erzurum is a very popular 'overland' road, and we kept meeting up with the French guys Gus, Gilles and Guilleme (www.velhom.fr.st) who took a year out from study to cycle from Paris to Peking on a budget of £2 a day, mostly staying with locals. Their route took them through Albania and Montenegro before heading into Greece and Turkey. Gilles even got his recorder out and gave us a tune when one of us had a puncture!
Erzurum in Eastern Turkey has the third largest university campus in the world, easily accommodating its 45,000 students. We arrived there rather wet and drained, but spent a great afternoon with fellow students Selim and friends as they drove us round the area and to the ski resort 8km up the hill (2400m). Thank you so much for your hospitality. Andy also attended an intermediate English class at Atatürk Lisesi school where one of the girls thought he looked like Brad Pitt! I don't think so somehow. His school report can be found at the bottom of this page. We also wet two British bikers Chris and Kirsten (www.worldtriumph.co.uk) on a three year world tour on their 20 year old Triumph's. Good luck guys! Erzurum was also 'must buy warm clothes' town. In the end Turkish army commando gear was the cheapest - and thermals, gloves and hats were bought to get us through the winter hills and into the warmer climate of Southern Iran. Very cheap - a good quality thermal top was £1.20 (£30 in the UK!).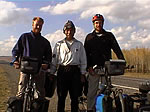 As we headed further East towards Iran, and 20km out from Ağrı,we met ultra endurance athlete Nakayama Yoshitaro from Japan. He was running and walking along the Silk Road from Wulumuqi in China to Istanbul. We exchanged photos and addresses as he explained he covers between 45 to 75km per day! We couldn't quite believe it at the time. Later we discovered he competes in double, triple and even deca Ironman's amongst other ultra endurance events. Keep going Nakayama!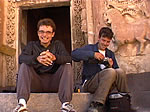 Into Doğubayazıt where we met the French trio again. They had just returned from climbing Mount Ararat (5137m), the giant snow capped volcano that overlooks the town. It is allegedly the resting place of Noah's Ark according to the Bible. They paid 400 million TL for a guide and it took 3 days for the ascent and descent but they only managed to get to within 100m of the summit due to high winds. Plus they only had one pair of crampons between the four of them! Now that's climbing. We also met up with the Swiss Loic and Bertrand, our friends from Istanbul. We will be cycling with them in Iran.
And so thats it! We have finally cycled through Turkey, a great place that has given me many fond memories. The even bigger country of Iran awaits! Great.
Total Distance to Doğubayazıt: 6138km.
Andy's School Report - Atatürk Lisesi, Erzurum
First of all I would like to say a very big "Teşekkür ederim" to Recai Özsoy and his class (especially Bariş, Tekin, Adem and Çağlon) at the Atatürk Lisesi school in Erzurum, for one of the best experiences of my journey so far. I hope you all enjoyed the lesson as much as I did!
One afternoon, I was happily walking along Erzurum's high street, when I noticed three young lads staring at me. Not exactly a strange occurrence, since fair-haired Brits are not a common sight out of tourist areas. After a while you tend to get used to all attention and curiosity, just like the Royal Family has to, I guess. I noticed the lads turn around and follow me, and as they all had happy smiling faces I slowed to speak with them. I ended up speaking with Bariş, Tekin and Adem for an hour or so, and we had a çay together in a cosy çay salon at the back of a shopping precinct. I was amazed at their knowledge of English, especially their vocab, because they had only been learning it for one year. They were keen for me to attend their English lesson the following day and I willingly agreed - I was interested to see what life was like in a Turkish school, especially during an English lesson.
The next day I met Bariş, Tekin and Adem, and their friend, Çağlon, at the appointed time and place and we headed for school. "We didn't think that you would come" said Tekin. After the standard cries of "Tourist!", "Where are you from?" and "What is your name" as we passed through the corridors, we waited for their teacher to come back from lunch.
During the lesson, I stood at the front and talked a little about myself and why I was in Erzurum. The students fired questions at me - easy ones like "What do you like about Turkey?" and even "Do you have a darling?" and then harder ones for me to answer: "What do you think of war with Afghanistan?" and "What differences between England and Turkey?". Some of my answers were a bit messy and complicated, but I hope they understood what I was trying to say.
After the lesson (they were so keen to talk to me that the class stayed through their break!), I sat in the staff canteen drinking çay with Recai and talked about many things - my journey, the Turkish education system and politics and also his own poetry - examples of which he uses in his classes. He showed me his own little anthology, which included cleverly written short poems, including my personal favourite - "I hate Sundays" - with the line - "Love is to love what your lover loves". I liked Recai's refreshing attitude to teaching a language, so often absent back in British schools. Instead of just using textbooks, he also used literature (this term, Oscar Wilde, next term, George Orwell) and poetry to add interest to the lessons.
So thank you once again, Recai and the class, and I hope you all continue to learn English with the same enthusiasm you showed in our lesson. Keep in touch!