logbook

Update 11
Update 11 - Hello Meeeester, welcome to Iran! Doğubayazıt, Turkey to Tehran, Iran.
8th December 2001.
On the road again, and we had company - "The Swiss", Bertrand et Loic (friends from Istanbul), made a remarkable error of judgement and decided to ride with us for a while. Our first day together and we were coming to the point we had all been looking forward to with a mixture of excitement and apprehension for some time - entry into the Islamic Republic of Iran. It was a beautiful clear day and Mount Ararat towered above us to the north. Before we reached the border we took a short detour to a meteor crater, which was actually located in no-mans-land between the two countries - the only tourist site I have ever visited where I have had my passport checked! After that the border was a fairly simple and boring affair. "Welcome to Iran, Meeeester Andrew". Oh, OK then.
We spent our first night in Maku, a small town in a deep, red-rock gorge with thousands of car repair centres and a nice little patisserie, where we spent the evening eating sweets and attempting to read a Farsi football mag. Our first impressions of Iran were good: the people were friendly, the bread delicious and the roads smooth, though the driving was a bit dubious. We couldn't get to sleep that night for ages because a religious leader was singing all night. Listen to what he was singing by clicking on

singing.rm.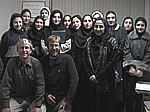 Two days later we arrived in Tabriz and almost immediately found the very friendly and very energetic local guide, Nasser Khan, recommended by Lonely Planet, and several travellers we had met. Unfortunately we landed ourselves in a rather grumpy hotel, but didn't spend much time there, instead wandered around the labyrinthine bazaar and went to a 'men-only' swimming pool and English lessons with Nasser. Matt met a group of uni students who didn't like their own country much, but the majority of Iranians really don't like the US ("The Great Satan") either, and Tabriz even had US and Israeli flags painted on the road, so you could drive over them!?
We parted from the Swiss soon after Tabriz (we travelled a bit too fast for them), and set off on a 5-day, 645 km, rough camping all-the-way 'blitz' to Tehran. The scenery was a mixture of deep, lush green gorges, wide open arid valleys, harvested fields and rolling hills. Like most of Central and Eastern Turkey, the harvest is over and everything is very brown - a little disappointing, since the golden autumnal colours of the trees don't stand out so well. One touching experience occurred on the way to Zanjan - a car pulled up very close to us, and a little boy in the back seat passed us each a delicious Satsuma. That made my day!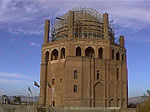 The next day we passed through the busy town of Zanjan, and visited Soltaniye - a huge mausoleum originally built for Ali, son-in-law of the prophet Mohammad, but not actually used for him in the end. It was actually quite disappointing - covered in scaffolding, inside and out, and charging 30000 rial (£3) entry for foreigners - well over a camping day's budget. Iran suffers from a dual pricing policy - foreigners are charged ten times more than Iranians for entry into tourist sites, which can make it quite expensive (relative to other living costs) to get some "culture". That night we found a nice little campsite in an orchard, but it had one problem - it was at over 1700m altitude, and we woke up with frost on the tents. Brrrrrrrrrrr!
The following day we had a monster tailwind, and managed to cover 155km pretty easily. We stopped for lunch in Takestan, which literally translated means 'Grape Country'. According to the laws of the Islamic Republic, grapes can only be used as fruit, raisins or juice, but we were told that wine is still produced and consumed, but only clandestinely behind closed doors. That night we camped in a ditch right next to the Tehran road and tucked in to the 'official' (and rather monotonous) Charityride dinner - tuna, tomato sauce and pasta. We stuffed ourselves well though, in the knowledge that Ramazan, the Islamic month of fasting, was starting the following day. Although foreigners are officially exempt from Ramazan, it is impolite to eat or drink in public and a great numbers of restaurants and even some shops close during the daylight hours, making eating on the go rather difficult. Perhaps not the best time to cycle through Iran, but certainly an interesting one!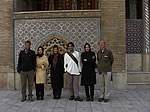 Tehran, the sixth capital of the trip and perhaps the most polluted city I have ever visited. When we had finally negotiated the mad city traffic (which consists almost entirely of Iranian-built Hillman Hunters, and mopeds) and arrived at the hotel, we were completely covered in dust and soot - we looked like coal miners, and I dread to think what was in our lungs. That night we met two Iranian girls, Setareh & Zahra. As we chatted over numerous banana milkshakes (Adrian's current addiction), they invited us to their home the following night. Their mother cooked up a delicious traditional Iranian meal as we talked about all sorts with the girls and their friends, Marjon and Mohammed. Mohammed is a good musician - listen to traditional Iranian music performed by him by clicking

mohammed.rm. The next day they gave us a guided tour of the pretty Golestan Palace and Tehran's bustling bazaar, and we met up gain in the evening to sample an Iranian speciality - the chelo kebab.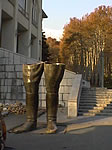 Tehran wasn't exactly a nice place to rest - the overwhelming pollution gave us all headaches, but it did have some highlights. The former Shah's palace in a park high above the polluted downtown was a fascinating mix of traditional Persian and tacky Western styles, all achieved at enormous expense - no wonder they overthrew him - his taste was so bad! I also visited a disturbing yet enthralling photo-exhibition on the Iran-Iraq War at the Iranian Photography Centre. To see such scenes of trench warfare and fanatical fighting in relatively recent history was quite a shocking experience.
We are now in the heart of this little known and largely misunderstood country - it's a fascinating place - a few alien customs, laws and ideas, but the people are so friendly and the scenery, especially the mountains, is so beautiful. It is a great place to travel, especially by bike, and we are all looking forward to the next few weeks here. We are just hoping that it gets a bit warmer as we head south!