logbook

Update 11
Update 12 - Tehran to Esfahan, Iran.
8th December 2001.
And so we finally got out of Tehran. What can I (Matt) say about Tehran? A big city. A big, busy city. A big, busy, polluted city. A big, busy, VERY polluted city. Tehran was a great experience, but it felt good to be moving again.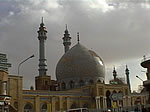 We cycled on to Qom. A town that the guidebook says is 'probably best to ignore'. 'There is nothing of great interest to see here' - the guidebook said. My ars*! Qom is the second holiest city in Iran, with the Hazrat-e Masumeh shrine - a beautiful blue and gold domed shrine. If I'm perfectly honest, it is rare for a historical building or monument to leave a lasting impression on me. The shrine at Qom was totally different. To say that this shrine was beautiful would be an understatement. I left the shrine with a lump in my throat and an appreciation of how lucky we had been to see inside.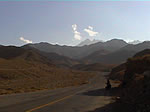 The cycling between Qom and Esfahan was beautiful. Mountain scenery and a rugged dessert landscape made this area unforgettable. Also my short-wave radio came to the rescue once again one night whilst camping out in the middle of a field in the middle of nowhere. Luckily, the BBC Worldservice gave commentary to the live rugby game between England and South Africa and for nearly 2 hours I was in second heaven!
Our final day into Esfahan was an ordeal. A big headwind, a 2150m hill to climb over and a general 'can't be arsed with this' attitude made the day 'interesting...'. However, the scenery was beautiful and another highlight of the day was stopping at the roadside to meet a French tourist, Bertrice and her Iranian guide, Maxi. They were very friendly and interested in our trip. They even gave us lots of fruit and a big box of (very expensive) cakes to help us along. The cakes lasted for about 5 minutes...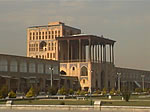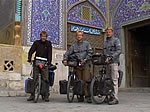 We eventually wheeled into Esfahan. This time the guide book got it right; 'If you visit only one place in Iran, make it Esfahan'. It's easy to see why. It's a beautiful, but polluted city. There are many things to see here and the architecture is magnificent. The highlight is the Meidun-e Emam Khomeini square at the city's centre. At 510m by 164m it is one of the world's largest and has beautiful monuments around it's perimeter. Listen to me within a dome of the beautiful Masjed-e Emam mosque, it creates strong echoes, by clicking on

echo.rm. That night I took a night walk and met an Iranian man called Ali. Our conversation covered religion, ethics, religion, religion and football. Iranians love to talk about religion. We walked past the city's famous bridges - some of which were built in the 12th century.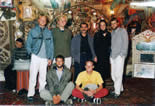 Our Esfahani friends Sam and Mazdak took us to a popular and traditional teahouse. An Iranian teahouse is an institution in Iran, much like the pub is in Britain. For four nights in a row we ate, drunk tea and chatted the night away in an atmospheric setting. It was so good to get away from the usual tourists haunts and see a 'real' Iranian hangout.
And finally I have two good pieces of news. Firstly, Tom and Jerry are shown regularly on Iranian TV. I was in a shop buying food a few days ago and on came the cartoon. For minutes I could hardly breathe because I was laughing to hard. (Maybe the cycling is sending me mad???) Secondly, an organised overland tour bus has given me 2 jars of Marmite - thank you!. Hmmmmmm.....marmite. I love marmite......hmmmmm.......2 jars.......hmmmmmmm - thank you!