logbook

Update 13
Update 13 - Hello Meeeester part 2 - Esfahan to Shiraz, Iran.
11th January 2002.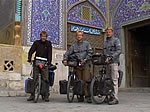 It took all morning of the 30th Nov. to get ready and say goodbye to everyone in Esfahan, mostly the group of us who spent every night for several hours in the great local teahouse we kept going back to. They were: the fourth and honorary charityride member Kat; Esfahani's Sam and Mazdak, who were very helpful and great friends to us, thank you; the Belgian solo cyclist David who we also met briefly in Cappadocia in Turkey, and later in Bam; the Swiss-German traveller Roger; and the friendly Aussies touring the Middle East Michelle and Claire, who let us listen to there walkman - western music at last!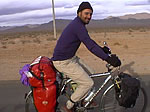 For the next 5 days we followed the main road to Shiraz. It rained almost everyday - the first real rain the region has had for 5 years, which wasn't nice for us! Very strong head winds going uphill were a bane too. It was great however to have Spaniard Juan Garcia Azorin cycling with us. The cold and wet were not felt so much cycling with him. I don't think we have laughed so much in ages as he is learning English, and we have taught him some useful phrases like 'biggidy biggidy bong', 'fancy a brew?', 'he is concerned about the drainage in the lower field', 'ef ef ef, peth eth eth, Chris Waddle', 'Malaga..... Scorchio! Madrid...... Cumulus Nimbus!', 'fancy a date? (the fruit, they're yummy here in Iran) Not tonight Darlin' I'm washing my hair', 'I can't be arsed' and my favourite 'talk to the hand because the face ain't hearing it'. Try to imagine Juan saying these in a strong Spanish accent and you'll understand why we have been constantly in hysterics for ages. Sorry, but thanks, Juan. Watch Juan trying his best at Persepolis - click on juan.asf.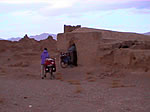 On the second day to Shiraz when it was getting to that time of day where we need to start looking for a place to camp, we discovered an abandoned timeworn high walled citadel made from mud and straw just off the road. No one was around so we camped inside one of the rooms still standing. It felt like it was a historical place that we should have paid a hefty entrance fee to see - but we had it all to ourselves. Just great!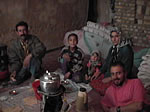 As we left our own citadel for another day at the office it decided to rain heavily with a miserable head wind. This lasted all day. We finally arrived into the small town of Debidt as it was getting dark, just after crossing a steep pass of 2450m which was cold and wet! We met a nice local Abdul who offered to put us up for the night. This offer was so well received by us because we could not bare a camp in the cold and wet. We followed his car into the dirt track streets of town to his humble home poorly made of bricks. It was a typical house of the area - poorly constructed with what materials are affordable and available. Inside the walls are bald and not plastered, the floors were cold and there is no real furniture in the house - the family eat, sleep and pass the day sitting on the floor. Despite their apparent hardship they were so hospitable to us, offering food and anything they could. We spent a pleasant night talking and playing with Abdul's son and two small daughters. The Liverpool FC key-ring and a map of the world we offered were greatly received. Thank you so much for an unforgettable night.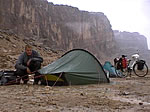 Our final camp before Shiraz was right under the huge Achaemenid rock tombs hewn out of a high cliff known as Naqsh-e Rostam. They are just across the valley from Persepolis. The plan was to see this and Persepolis in the morning, then cycle the remainder to Shiraz in the afternoon. However, as we woke up it started to rain again, so we had breakfast in a cave half way up the cliff and waited until it stopped. A few hours later it was still raining! When we finally managed to come back down and inspect our tents - they were floating in a big pool of water! Thank god we've got waterproof panniers! Wet and disillusioned we packed up camp and made it to Shiraz, a pleasant enough place (but their milkshakes are not as nice as Esfahans), deciding to leave Persepolis for another day.
There are a large number of Afghan refugees in Iran. We met several in Shiraz and Esfahan, and there are many more in Bam and Zahedan too. Andy and Juan were even playing football with some Afghan kids, but I think they were too good and easily beat the cyclists! I (Adrian) met a friendly Afghan while waiting for, you've guest it, a freshly blended banana milkshake (just the best drink), and although I can't speak any Farsi or Pashtun, and he didn't speak any English, we chatted in international sign language and were getting on quite well. It is such a shame so many have been displaced by mismanagement and military action.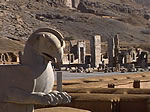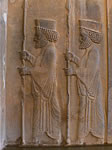 The stunning ruins of Persepolis 60km north of Shiraz were undoubtedly one of the main highlights of the trip so far. We hitched back there a few days later from the city when the rains had abated. Persepolis is believed to have been the summer capital of the first great Persian empire - the Achaemenid Empire. Construction of the magnificent palace complex started in 512 BC and it was finally completed 150 years later by a host of subsequent kings. Its grandeur was short lived however as it was burnt to the ground by the invading Macedonian Alexander the Great in 330 BC. The impressive ruins are very well preserved because they were only discovered in the 1930s from centuries of cover buried in the dust and sand. Its many detailed bas-reliefs and fine statues not only give an insight into their way of life, but are also astonishing works of art. Another attraction of the area is the wonderful volcanically formed hills surrounding the ruins. Suddenly a line of rock, layer upon layer, appears out of the ground at about 45 degrees, rising ever higher to form a mountain. The layers are so uniform that it is as if you could drive a car or mountain bike right up to the top. It was an extraordinary sight.
As the day was drawing to a close we cycled and hitched back to Shiraz to prepare to leave for the next morning - destination Bam....