logbook

Update 14
Update 14 - Troll Life - Shiraz to Bam, Iran.
11th January 2002.
After recovering from the wet weather induced colds we picked up in Shiraz and sightseeing at the stunning ruins of Persepolis, we continued east with Juan, heading for the attractive oasis town of Bam. This 750km stretch was considered by all of us as the most memorable cycling of the trip so far. It was also the hilliest and highest (a 2800m pass), which added to the indelibility.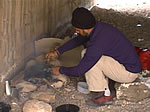 We had turned into trolls too, after a tip from our Belgian friend David. There are many small bridges under Iranian roads and some of them are just big enough for 4 people to lay their sleeping bags under! They also keep you and your bike nice and dry when it's raining, which it often did. The tent wasn't needed at all. Some bridges were even partitioned, so we had a kitchen and living quarters! Don't knock it until you've tried it! A disused house, a building by the side of the road and a Red Crescent Society refuge were also homes for the night on this stretch. Watch bridge1.asf and the second part bridge2.asf to find out how cosy they are.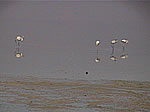 The panoramic delight commenced just a couple of hours into the first day and forced an early lunch. Lake Maharlou is a small salt lake with mountains encompassing its shores, however its main attraction are the pink flamingo's that live there. Such an unusual site in the middle of barren and mountainous terrain was most welcome.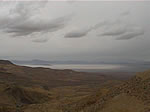 As we headed further east the views got better, and the terrain more lumpy. The approach into Neyriz was incredible - a 15km descent overlooking Bakhtegan salt lake, with wonderful lava formations by the roadside. A landscape photographers dream.
We crossed our first real desert plateau approaching the dusty town of Sirjan. Nothing but tumbleweed and distant mountains to focus on for over 100km. The road was quiet too - not so many lorries and cars as we have been previously used too. It was here that we chose to skip the established tourist jaunts of Kerman and Mahan and go straight to Bam on the hillier road to the south, and through, the Zagros range of mountains. It was the right decision.
If you ignore the physical effort of getting over a 2325m pass approaching Baft, a 2560m pass just before Rabour, another one 30km later, a 2700m pass before Darbmazar, a steep 15km climb soon after to another at 2815m, then a monster 50km downhill into the Jiroft valley (750m), then a climb back into the mountains to 2275m, then this 330km is a must for any cyclist! Mt Lalezar (4374m) and MT Hezar (4420m) give way to hillsides of every colour you can imagine - from dark reds to light blues and greens. The lava that created them flows so erratically it was a spectacle well worth experiencing. We later discovered that we are the only known people to have cycled this route from Sirjan to Bam - this put a smile on our faces.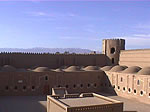 Bam is described as an attractive oasis town - and it certainly is! For miles around it's surrounded by hills and sand, but as you approach the outskirts the prevailing colour suddenly changes to lush green, with date palms lining the streets - a very welcoming site. We finally arrived at the Akbar hostel very dirty and smelly after eight days of cycling and camping. A shower was the first thing on our minds!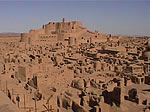 Arg-e Bam must be one of the main highlights of any trip to Iran. It is an awesome large clay constructed citadel dating back centuries. It housed thousands, but was abandoned as an effective citadel in 1722 after an invasion by Afghans. We visited it early in the morning with a guide when the shadows are best for photography, and the colours are striking. Some parts of the complex have been totally restored, but the attraction for us was the sight of the crumbling original buildings. A must see....
It was here in Bam that we decided to cycle to Pakistan with Juan and David (and Kat on the bus!) after cargo ferries to India from Dubai were definitely not available. We heard from other overlanders on motorbikes who had recently passed though Pakistan without incident. With this in mind, our new plan was to cycle to the border and then take public transport to Lahore, thinking that would be safer until we were away from Afghan bordering areas. Baluchistan deserts here we come!