logbook

Update 15
Update 15 - Bandit Territory - Bam to Mirjaveh.
11th January 2002.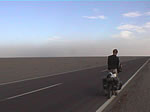 This leg of the journey was an experience! The Bam to Zahedan road is infamous for a number of reasons - it snakes through barren desert, up and over a couple of rocky mountain ranges, there are very few facilities and it is bandit territory apparently. In the past people have been kidnapped on this stretch of road and a couple of years ago some Dutch cyclists were shot at whilst camping by the road. Recent cyclists have had armed escorts through the "dangerous" parts, but after much debate we decided to go for it anyway.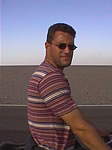 We set out from Bam as a foursome - David the Belgian had decided to join us, whilst Juan rested his knee and accompanied Kat on the bus. The sun was shining and the wind was behind us so we zipped along past a few small villages and a couple of police controls without incident. We stopped at one small village, at Restaurant 17, for lunch. We were just tucking in to our aubergine and tomato stewy things, when a busload of young army guys appeared. They were friendly and inquisitive and we signed lots of diaries before we finally got away.
David had bought a new rear pannier rack in Bam, but it was one of those rather flimsy Iranian jobs and it wobbled all over the place. We were taking bets (highly illegal in Iran!) on whether it would get to Zahedan or not, but in fact it wasn't David who had the problem. "I have a major problem" said Matt. We discovered that the rear pannier boss had snapped off the frame - a testament to the strength of our excellent Tubus pannier racks - the frame snaps before they do! Fortunately the problem was easily solved by simply attaching the rack to the mudguard boss. We continued on and the desert became ever more barren. Soon all we could see was sand in every direction.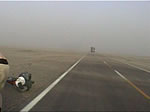 The wind was getting stronger all the time and had switched direction, now coming at us as a rather evil crosswind. Before we knew it we were in a full-on sandstorm. Wow, this was what desert cycling was all about! We stopped to take photos and suddenly Matt ran out into the desert for no apparent reason. We found out when he eventually got back, that his glasses case had blown away, but by now it was probably in Mashad, miles to the north.
Our first night on the road was spent in the security of a police compound at Shurgaz, a place that consisted of a police compound, and, errr, nothing else. Atop one of the turrets was a rather large machine gun and we pitched our tents amongst the spent cartridges on the sand. Nice place! The wind continued to blow throughout the night and buffeted the tents all over the place.
Next day was when the fun really started. We had started climbing up a long gradual climb when we saw a cyclist coming towards us. It turned out to be a Japanese guy on a shopper bike, with all his belongings in a basket and rucksack. We chatted briefly, he'd cycled from Bombay, when something else caught our attention - his escort turned up - a Toyota Landcruiser with a bloody great machine gun on the back. "We want one" we said to ourselves, not because of security, but simply for novelty value! And later, our escort turned up - sadly without a big gun. He didn't hang around long either, obviously bored with our slow progress up the hill and sped off to the top - clearing the way for us I guess.
We arrived at Nostar Abad, a friendly small town full of white-robed Baluchis, and eventually managed to get a place to camp - just outside the police compound in the middle of the village. "Great, we're going to be surrounded by locals in seconds" we thought, but actually we needn't have worried, a curfew seemed to hit the town as soon as it got dark. "This place is dangerous, bang, bang", a young Tehrani called Hameed, doing his military service here, told us as we cooked our dinner that night. Hmmmm, comforting.....
We slept surprisingly well considering, and set off the next morning. "I'm not leaving until they get the big gun out for us" said Matt, but no escort appeared and we were alone, cycling through the "Black Mountains" - apparently not named just for their colour! The day passed without incident however, the highlight being the "Who can spit a date stone the furthest" game. Adrian won. Well done.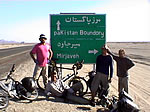 We arrived in Zahedan, and were immediately shocked by the number of Afghan people there. In fact, Iran has more refugees than any country in the world, an even greater burden on an already fairly poor country. Zahedan wasn't as bad as the guidebook makes out, and apart from having a few hassles with the passports at the hotel and having to pay 10 times more than Kat the German for a Pakistani visa (grrrrr!), we had a nice time there - celebrating Christmas Eve with a bog standard Iranian kebab.
Christmas Day. Bloody hell, we're in Iran, in the middle of nowhere. It's days like this when you suddenly realise where you are. We had planned to spend the night in Mirjaveh on the Iranian side of the border, but we soon discovered that the only hotel in town had closed, and by now we were all itching to get into Pakistan. We were the last people to cross the border on that day, making it the shortest Christmas' we have ever had (Pakistan is 1.5hrs ahead). Although Iran had been great, it was time to move on.......