logbook

Update 16
Update 16 - Pakistan - Taftan to Lahore.
11th January 2002.
Entering Pakistan on Christmas Day, with Afghanistan only a few kilometres to the north and trouble brewing with India, was a somewhat bizarre and exhilarating experience. The trip through Baluchistan (the most western province of Pakistan and bordering Afghanistan) had always been considered by us as the most "difficult" part of the trip. The area is known for it's drug trafficking and banditry, and the events of September 11th 2001 (which occurred way back as we entered Istanbul) had only made the area more dangerous - with a large influx of Afghan refugees and local pro-Taliban support. However we'd heard positive reports from travellers in Pakistan and decided to ignore all the media-hype and stick to our original route, with only one slight alteration - no cycling.
We believed that it might be safer to travel through Pakistan by public transport, though once in the country we felt pretty much happy and the words "What are we doing? We should have cycled" were uttered on many occasions. Oh well, the decision had been made and after passing through Pakistani customs we immediately jumped on the bus to Quetta. Bikes and bags were thrown on the roof and tied down, and we squeezed ourselves on amongst the locals. It was a 14-hour overnight journey, on an incredibly bumpy and narrow road, punctuated only by a couple of food/toilet/prayer stops, and at least the film they showed was funny (even if it was in Urdu).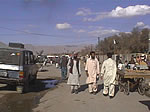 When daylight came, we could finally see what we had been travelling through - barren, mountainous desert, villages few and far between, and the road itself was in bad condition and often only single lane. The people and villages looked poorer, but already the people were changing - they looked very different and wore more colourful clothes - no more dull Iranian colours. We arrived in Quetta mid-morning and set about unloading in the busy bus station. The plan from here was to catch a train to Lahore, but first we had to cycle through Quetta to register with the police, withdraw money and buy Scrabble! Cycling in Quetta was an experience - back on the left side of the road, officially at least - in practice the auto-rickshaws, brightly decorated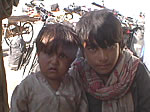 buses and lorries simply drove wherever they wanted, horns constantly blaring. We survived and arrived at the train station, mission accomplished, only to find that getting a train wasn't that easy. However after much Pakistani bureaucracy and seeing how a huge railway company operates without computers (lots of triplicate forms and typewriters), we managed to get a scrap of paper which allegedly had Lahore written on it. There was no space on any direct trains to Lahore - we had to catch the night train to Karachi and change somewhere en route. Simple .... possibly.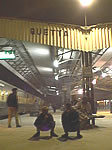 We spent the day at Quetta railway station, sampling the local culinary delights (yipppeee no more kebab), talking to the locals and drinking sweet milky tea. By the time we left, we'd grown quite fond of Quetta and it's friendly, helpful and polite people - a mix of all sorts - Baluchis, Pashtuns (Afghans), Sindis and Punjabis.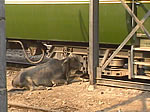 We settled down in our sleeper cabin for a game of Scrabble, followed by one of the best nights sleep on the entire journey. We arrived at Rohri the following morning and set about finding our train to Lahore - only to discover that "our" train was actually full and there was no room for the bikes on board anyway. Spent the whole day dealing with Pakistani bureaucracy at it's best (i.e. going around in circles), being invited to a Taliban school and playing Scrabble and cards on the platform with a huge audience. We finally got on a train, but no sleeper this time- we were in the cattle truck with the locals. OK it was cramped and not particularly comfy, but it was very interesting to see how the Pakistanis travelled.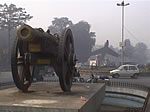 We finally arrived tired and rather stiff in Lahore, and had a mad ride through the busy streets to the YWCA hostel. Apparently it was closed, but they let us in anyway, though a day later we wished they hadn't - only 3 managed to have a hot shower and then all the water stopped. But it wasn't all bad - we had the place to ourselves - plenty of space to party on New Years Eve. We cooked up a huge dinner on a bonfire, under the supervision of Masterchef David, and all the boys had a celebratory shave! (I certainly needed one). Listen to the embarrassing antics of David and Juan on a TukTuk (a large motorised rickshaw) by clicking on

tuktuk.rm. Lahore was a very pleasant city, full of life and interesting sights such as the ancient fort, the busy bazaar, the beautiful 17th century Badshahi Mosque and the famous Lahore museum, and we ended up staying almost a week.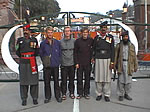 We took a day trip to the border to witness the closing ceremony, but Pakistani public transport again delivered us late (grrrrr!) and we had to make do with a few photos of us standing next to the impressive Border Rangers. Oh well, we'd have to see the show when we crossed into India...
It was time to leave Pakistan and get cycling again. From our brief and rapid journey through the country, we'd seen that it wasn't as bad as everything makes it out to be - the people are friendly though they are poor, and it can't be an easy place to live - sandwiched between hostile India and warring Afghanistan. The country seems deeply divided - very Islamic, and yet the military government sucks up to the West and is rife with corruption apparently (the Army even owns Pepsi!).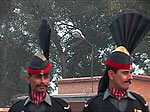 So we left Lahore, joining the Grand Trunk Road, which once connected Kabul with Calcutta, along with the thousands of others - cyclists, cycle-rickshaws, auto-rickshaws, horse-drawn carts, buses, taxis and cows. Having so many other cyclists around was a comfort in the mad traffic - we were just part of the crowd - see the video clip Adrian took whilst we were cycling - lahore.asf. Once we were out of the city however, the traffic virtually disappeared and when we arrived at the border there was hardly anybody there - the quietest border I have ever seen. We crossed the border into India (only 8 people did that day - and we were 5 of them!), the border closed and that's when the border started to get busy......
Click here to see the Progress Chart.