logbook

Update 17
Update 17 - Wagah to Delhi, India.
11th February 2002.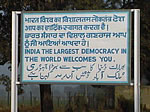 On into India - our 13th country of the journey. And what a welcome we received. It was showtime! Every evening there is an unique closing ceremony at the India-Pakistan border. Pakistan and India don't like each other too much - no secret. Each night large crowds of people travel to the remote border and stand on grandstands and viewing galleries on their respective side of the border gate.
Highly disciplined soldiers on both sides of the border then perform identical 20 minute displays. This involves a LOT of saluting, stamping of feet and glaring at each other. It is a sort of competition every day. Each side tries to out do the other by shouting the loudest and stamping their feet the hardest. Whilst this is happening the crowds throw as much abuse to the other side as they can. Great!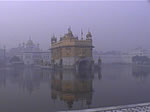 After this we headed to Amritsar and arrived at the Gurudwara at the Golden Temple in the city centre. A Gurudwara is a Sikh pilgrim's hostel. The Sikhs are notoriously hospitable people and western tourists are allowed to stay in this basic and functional place for free - as long as the hair is covered at all times by a hat. They even throw in some free food as well.
The Golden Temple itself was beautiful (see photo). We left Amritsar and headed north. But before that we had a couple of goodbyes to say. Spanish 'Not tonight, darling' Juan and David the Belgian had become honorary Charityriders and we were sad to lose them both. Juan had been with us since Esfahan, Iran - 45 days - poor bloke!
Onwards to McLeod Ganj, where the Dalai Lama has taken exile. This is a small town set in a beautiful setting within the foothills of the Himalayas. The views are spectacular, especially at evening when the mountains glow red in the sunlight.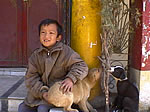 I (Matt) found McLeod Ganj to be a strange place. There are many Tibetan Buddhist monks all wearing red robes. But there are also many Westerners who have become Buddhists walking around in the robes. I found this very strange (even false). There are many yoga schools there and many people stay for months to learn yoga and reach enlightenment.
It was also our first experience of tourists. All the time since leaving Istanbul, we have been to places where there have been very few (if any) tourists. We were almost the only foreigners in Iran and Pakistan, for example. All of a sudden, there are hundreds of us all in a small hilltop town. Overwhelming to say the least. When we first got there we beamed and smiled at every foreigner we saw - for us it was a novelty. People must have thought that we were very strange.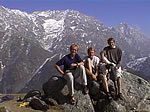 Our hotel was perfect. It overlooked a deep valley and we could regularly see various birds of prey looking for din dins. We even had a load of very very annoying baboons trying to steal our food every morning - cheeky monkeys!
But the best part of our stay in McLeod Ganj was the day walk up to Triund at 2840m. It's a beautiful walk and the views at the top are spectacular of the Himalayan foothills and prayer flags. (See photo).
It was time to head south to Delhi. And what a shocking journey it was. The roads in India are something to be experienced, especially as a cyclist. The drivers beep their horns at everything, yes everything. They beep when turning, accelerating, decelerating, when they are bored and when they see Western cyclists. For six days we had head aches and got very annoyed with all the noise.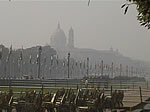 We arrived in Delhi and expected the traffic to be utterly horrendous. We were pleasantly surprised and had little trouble getting into the centre fairly safely. In fact, it was a quiet Sunday ride compared to Istanbul or Tehran. Delhi is pleasant enough. Busy, noisy, polluted of course. There are several good monuments to see and some good bazaars.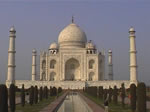 We took a day trip to Agra to see the Taj Mahal. What a truely awful day. We spent 19 hours on a really bad bus. The Taj, I agree, was beautiful, but expensive. It is one of India's must sees, I only wish we had been there in the early morning before the crowds and the touts. It turned out to be one of the worst days of the trip so far. You are probably getting the impression that we are not too keen on Northern India.... Well, you're right!
But despite all these wonderful (and not so wonderful) experiences, one memory stands out from a mile off. Sitting in a good hotel in the small Indian town of Mandi, near Delhi, we watched possibly the greatest film of all time - George of the Jungle. If you haven't seen this cinematic treat then let me set the scene. George (the 'hero') was stranded in a jungle as a baby and raised by a bunch of English-speaking gorillas (and why not?). He is a second-rate Tarzan figure. Every time George swings through the jungle on a vine he ends up either falling off or banging into a tree. Now this might seem like very simple humour, but remember, we are very simple people. So for 2 hours we could hardly breathe from laughing too much. The novelty of watching George smash into tree and then another tree and then another tree and then another tree...oh dear...