logbook

Update 17
Update 18 - Delhi to Kathmandu - the final push.
11th February 2002.
Change of plan. Originally we'd intended to head down to Agra and Varanasi and then north to Nepal, but encouraged by some Dutch travellers, a desire to leave India as soon as possible and an invitation from the British Embassy for a drink next Friday at 1pm, we decided to take the direct route to Kathmandu. This meant entering Nepal in the south-west corner and cycling along the Mahendra Highway in the lowland sub-tropical Terai. It's one of the best decisions we've made on the whole trip.
We left Delhi and headed east on the Grand Trunk Road. All seemed to be going well, and we soon left behind the busy roads of Delhi. About 50km out of Delhi, we discovered we were on the wrong road. Woops. We eventually got back on the right road but that night the milestone outside our hotel read "Delhi 50km" despite a full days riding. We made up for it the next day though, with a Charityride record - 197km! Admittedly it was flat and we had a tailwind, but it still was a hard ride - cycling anywhere in India is! Could we keep this pace up for another 6 days?
We arrived at the Indo-Nepal border the following day. If the guards hadn't noticed us we could have cycled straight in, with no visas or passport checks. The immigration "offices" of both countries were just small huts set back off the road, upon which crowds of locals passed to and fro unhindered. The complete opposite of the Indo-Pakistan border. By the time the Nepali immigration officer arrived (by rickshaw), it was getting dark, but we found our hotel pretty easy - unlike India, the only traffic on the roads were other bicycles - it was so quiet. First impressions of Nepal - very good.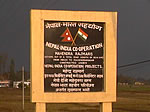 It got better the next morning (apart from the hotel manager trying (and failing) to rip us off!) - the roads were good and empty - just schoolkids cycling to school in the next village. After India it was so peaceful - no horns, no pollution - you could smell fresh air and hear birds in the trees. The people had changed too - in India they just stared as we cycled by, but here , everyone from the smallest kids to the old ladies washing clothes would wave and shout "Bye Bye"?! It was so good to see friendly, happy faces again.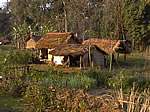 That afternoon we crossed the huge Karnali river and entered Royal Bardia National Park. We were stopped by police at a checkpoint at the park entrance. "No bicycle. Man-eating tiger. Take bus". "But we've cycled all the way from London....". Eventually we persuaded them to let us cycle the 15km through the park (with a motorcycle escort) to Ambassa where we hoped to spend the night. With an adrenaline-rush from the fear of tigers, we blitzed it through the park. All we saw was a few deer, but any rustle in the bushes made our hearts leap. At Ambassa two young teenagers organised accommodation for us - on the veranda of the park visitor information centre and we had dinner at the family-run teahouse nextdoor. Over dinner we were told that this man-eating tiger was very real - one of Bardia's 68 tigers, he has "eaten" 8 people, the most recent being a motorcyclist on the road we'd just ridden .... only a few weeks beforehand!
The next day was another long one - stopped at a hospital canteen for lunch and into increasingly bumpy countryside. We'd slowed down considerably, despite the energy-rich fudge and noodles we'd been stuffing down ourselves, and didn't reach our destination, Lamahi, until an hour after dark. We found a hotel, (cold) showered and came down for some food .... only to find the hotels shutters down. "Curfew!" said the hotel owner. What had been a busy street only minutes before, was now only occupied by a few dogs. If we'd arrived 30 minutes later....... We had no choice to eat at the hotel, watched by the owners two very pretty daughters, whilst a policeman armed with a huge tear-gas gun checked us out.
The next morning we met a couple of biogas technicians over morning tea who told us about the curfew - a few towns and villages in this region are subject to them. It was the first sign of the "State of Emergency" that is currently on in Nepal, that we'd experienced.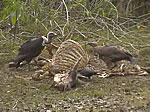 For the next few days we crossed more wooded hills, towns became more frequent and the roads gradually got busier. We passed the Royal Chitwan-National Park, where we saw an elephant and some vultures ripping a carcass to shreds. Mmmmm, nice smell.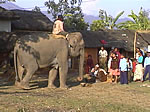 At Narayanghat we headed up a narrow gorge into the heart of the Himalayan foothills. It was a gentle climb, and the traffic was far better than we'd expected. It was a hot sunny day and frequent tea and noodle stops were required. We knew we wouldn't make Kathmandu that night, and decided to make Naubise, at the base of the final steep climb and only 25km from the capital, our last stop. Unfortunately there was only one place to stay in town, and it has to rank as one of the worst "hotels" (term used very loosely) of the trip. Dinner wasn't much better at the rather mucky "restaurant" next door.
The next morning we left bright and early - Kathmandu was calling, and we were rather keen to leave Naubise. The final steep hill to Kathmandu was easier than expected (those 11000km of training must have helped), and by 11 o'clock we were in Durbar Square - the famous square in the centre of old Kathmandu - temples and pagodas everywhere. After the obligatory photos and cups of tea, we headed through the city to the British Embassy to be greeted by some friendly Gurkhas and the vice consul. We've finished! And to celebrate, a beer and steak sandwich at the beautiful colonial British Embassy Club. "Jolly good show, chaps!".
The End (sort of).....
A trekking update will follow in a couple of weeks, then after that Adrian flys home, Andy and Matt continue separately into China and back home via Russia.
Total Distance to Kathmandu : 11254km.