logbook

Update 2
Update 2 - Day 8 to 12, Aachen to Westerham, Munich (Germany)
Our bikes are heavy! All the equipment quickly adds up. Tents, sleeping bags, mats, water filter, cooking equipment, clothing, water, food, spare parts, tools.....Heavy! This is not a problem on the flat. It is definitely not a problem going downhill. But when we hit anything that resembles an uphill slope it all goes horribly wrong. Have you ever tried pulling the equivalent of a loaded fridge up a 20% hill on a bike? Not nice.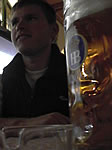 This stage has taken us from Aachen to Munich in only 5 days, a trip of 783km (490 miles) over 'lumpy' ground. We've really had a mileage push over the past few days because we had rendezvous arrangements with friends and family here in Munich. We now have four well deserved 'rest days' in Munich with all the great beer, lovely German women, beer, sleep, rest and some more beer - oh, and some sausage thrown in as well! Did I mention the tasty Bavarian beer? Click here to see and hear the band in the Hofbräuhaus, München. The beer festivals here are fantastic..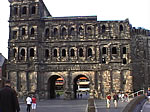 Our route firstly took us to the Roman city of Trier (see photo). While in Bitburg, just before Trier, waiting for a drink the annoying bells would not stop ringing! Lesten to them by clicking

bells.rm - but be warned, it's dull! Then along the Mosel River and over the Nordpfalzer Bergland up to 700m - that days total ascent was 1500m. From there it was on to Neustadt through through the lovely Lauter Valley. Then it was onto Gunzberg, via the city of Ulm with it's huge Cathedral spire (see photo) and over the Schwaebische Alps up to 840m. Our final day took us through typical Bavarian countryside with it's rolling meadows and forests with small villages.
The Germans seem to have everything sorted. They recycle loads, the trains run on time (believe us...exactly on time!) and the price of Haribo yummy cola bottles is less than half the UK price! They also have a much better equivalent of our 'Popstars'. Basically, they picked the five fittest looking German women that they could find and got them to wobble a bit in front of a load of fast jet planes, whilst miming to an old Eurhythmics song - nice job. But it's not all good news. The Germans have an unhealthy obsession with mullet hairdo's, David Hasslehoff's singing and very annoying church bells.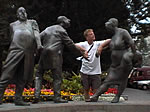 Our thanks go to Mike Snell, who has been cycling with us since Dover. If it wasn't for Mike kicking us out of bed each morning, we'd still be asleep in Brugge. Our thanks also go to The Ice Age that created the massive down hill section that bought us coasting into our Munich resting place. From here we're off into Austria and Hungary - we'll keep you updated. This is where the real adventure starts as we go into countries that we have not experienced before. Germany is great, but not the most challenging place to travel through.
Before we hit the road again, we would like to curse the Ice Age, which formed that bloody great big hill that we have to climb up to get out of Munich.
Bye for now....

Total distance to Aachen: 1226km. Click here to see the Progress Chart.
Matt's biscuit count: 350! Click here to see where they all go!