logbook

Update 3
Update 3 - 3 capitals in 3 days!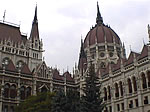 Hi Everyone! Well, here we are in Eastern Europe - Budapest in Hungary to be exact. This is our third capital city in three days, and we are now in our seventh country of the trip. We are again taking a couple of days rest and exploring this interesting city before heading south towards Sofia in Bulgaria on the next leg of the trip. The last few days have been incredibly hot and every day since Munich has been over 30øC. Fortunately the going has been fairly flat, since we've been following the river Danube for much of the way.
After finally tearing ourselves away from Hugo and Janet Barth's lovely house and hospitality in Munich, we cunningly cycled north-east to Braunau (Hitlers birthplace) and then east to Linz to avoid those big nasty Alps. At Linz we joined the Danube and the thousands of other cyclists, mostly families of Austrians and Germans, doing the Danube cycle path. The Danube cycle path, although nice and flat is actually a bit dull (it's just a big grey river!), and twisted around a bit too much for our liking.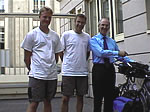 We had rest day in Vienna, where the British Embassy had organised an interview with the national English-language newspaper 'Austria Today', and we even had a beer with the Ambassador, Anthony Ford, a very nice fellow who was genuinely interested in our trip. We also met a damn nice Kiwi (and his blow-up sheep!) in our hostel, who gave us some good news about the current situation in Nepal, where he had just been trekking on the Annappurna Circuit. Good luck with your new job in Dublin, Herbs!
The next day, Vienna to Bratislava, was one of the most ... errr ... peculiar days of the trip so far. As we cycled east out of Vienna along the banks of the Danube, the number of sunbathers increased and increased. But as we got further from the city, the amount of clothing decreased and decreased - until we were completely surrounded by thousands of naked (and mostly old) Austrians. As you can imagine, to three young, reserved Englishmen it was all a rather disturbing experience, and we were quite glad when we finally got away from the Danube. Then came one of our first mental tests - a dead straight 25km cycle path along the Danube flood barrier - boring? Give me paint drying anyday. Mind you, the deserts of Iran will be just weeks on end of flat straight cycling, with just the odd wild dog to add a bit of interest to the monoton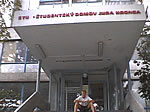 y.
Bratislava was a pleasant surprise, however. Although the centre of town has been scrubbed clean and now looks like any Western European town with lots of chic bars and shops, many of the surrounding suburbs still looked like the Eastern Europe of Soviet times, just with less Trabants and more new Skodas. Not only that, but everything was so cheap, and the women were beautiful. Our accommodation was in a huge block of student flats close to the city centre, and our room on the ninth floor was pretty compact, to say the least. It was quite a shock when we realised that four students would be living together in this room during normal term-time. The past two days have flown by pretty quick, since we've been sticking to the major roads (signposting on the minor roads being non-existent) and we went to bed at 8.30 on our first night in Hungary, just to avoid the millions of mosquitos at our campsite.
So it's Day 26 and we have already covered 2033km. Blimey, we'll be in Istanbul before we know it......
A few interesting facts:
Distance so far: 2033km (a sixth of the trip already!). Click here to see the Progress Chart.
Disease of the fortnight - Callippoitis (an addiction to Callippo lollies suffered by Adrian and Matt since entering Austria).
This week we've been mostly eating: Pasta with Tuna and Tomato Sauce (4 days in a row!)
Dogs successfully dazed so far: 1
Matt's biscuit count: 388 (It's been a slow week!)