logbook

Update 4
Update 4 - From Budapest to Sofia.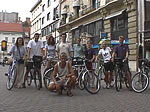 Zdravei from Sofia! We arrived on Friday 31st August after eight days on the road from Budapest. We can tell we are getting fitter as we don't feel too tired after a relatively straight forward 875km including a 1445m pass!
We spent two good rest days in Budapest, a city with a Western feel and Western prices. It is so commercial now it could be mistaken for a German or Austrian town. The only telltale sign that it's not Win the EU yet is the large number of Trabant Soviet relics still on the road. On the last day there we went on the excellent Absolute Bike Tour (www.budapestours.com) with our guide Csaba and explored Buda and Pest. We thoroughly recommend it.
After feeling refreshed after our stop we continued South along the Danube towards Yugoslavia and Kiskunmajsa. We had a big day planned so an early start was essential - 6 or 7am . People who know us would not be surprised to hear we finally get our admin sorted and leave at 10:30 with 160km to do! To top it all 5km out from Budapest and Adrian broke a spoke! The same thing happened again 20km up the road - he's too fat for 32 spoked wheels! We eventually arrive to a campsite filled with Dutch and Germans, a surprisingly frequent occurrence on our trip.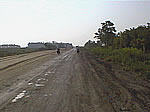 The next day we made our way to Mako on the Romanian border expecting to cross on the E68 to Arad. We discovered however there is a new border crossing to Cenad making our day to Timisoara a lot shorter. It was so new however that the roads to the crossing were still being made! It was a 4km dirt track, the most surreal crossing we've ever experienced.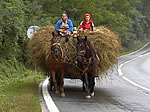 Into Romania, a beautiful country full of surprises and full of genuinely friendly and inquisitive people. Romania is still Eastern Europe as us Westerners imagine it to be. Unlike Hungary it has not benefited from flocks of German and Austrian tourists, and the difference in the economies of the two countries was notably evident within a few kilometres of the border. Romania has a Wild West feel to it, with more horse and cart on the road sometimes than cars! The first town we passed through, Cenad, was typical of the Romanian towns and villages we cycled through over the next few days. Run-down houses lining the main road, flocks of suicidal geese wandering all over the road, battered Renault-like Dacia cars and lots of either very old or very young people sat by the side in the shade of a tree selling watermelons, tomatoes, grapes or peppers. After our initial uncertainty and anxiety we quickly grew to enjoy Romania. The people were friendly and generous (one old man even offered to fill our water bottles with his home-made wine!), and everyone we greeted would wave or smile back, often with a "Drum Bun" (Have a good trip).
We spent our first night in Timisoara - the city where the Romanian revolution started twelve years ago. Our evening in Timisoara was a little bizarre. As we sat eating our Spag Bol and Pizza (a traditional Romanian meal!) in a restaurant on the main square, it felt as if we were part The Truman Show. The whole population of Timisoara seemed to be out wandering around the square. It was most peculiar, as they didn't seem to have anything to do.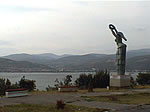 As we made our way towards Calafat and the Bulgarian border, we rejoined the Danube again and followed the Yugoslavian Border. We did think about following the Danube into Serbia and Belgrade on our way to Sofia, but chose Romania thinking we would have visa problems at the border. We later found out this is not the case, and it could be a possible route for future overlanders.
Into Bulgaria by way of ferry boat over the Danube and into Vidin, once the largest town in Bulgaria. We stayed there in an ex communist block campsite next to a disused fairground - only after a very helpful man personally showed us the way on his bike! This friendly start continued as we headed to Sofia - nearly every car would give us a friendly beep or a wave of encouragement - we like Bulgaria!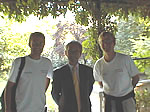 Our first test of fitness came 90km North of Sofia - the 25km ascent of the Petrohan Pass (1445m). We left very early to avoid the heat, but only two hours later and we were at the top! The great day of cycling ended as we entered the capital and met up with Mark, Tony and Sabina from the British Embassy, who we stayed with for the next few days. It seemed perfect timing as only the next day we watched England thrash Germany at football with other Brits and some bevvies! We also had three chaperones showing us around Sofia, a nice yet slightly concrete city, during our stay - Nadia, Annie and Annie. Thanks! We'll never forget it. We even met the British Ambassador to Bulgaria, Richard Stagg, obviously a busy man, but he still showed interested in our expedition.
It was either the copious amounts of kebabche and shopska salad we were eating or the fact that our immune systems were down after eight days of cycling that caused us to fall slightly ill. This continued as we left Sofia, but wasn't too much of a problem.
Our great thanks go out to Mark, Tony, Sabina, Nadia, Annie and all the others for their overwhelming hospitality while in Sofia. Thank you so much. We hope the move to the new building went well.


Total distance to Sofia: 2908km. Click here to see the Progress Chart.