logbook

Update 5
Update 5 - Bulgarian Belly and Turkish Delight
From Sofia to Istanbul
We finally tore ourselves away from Tony and Sabina's generous hospitality in Sofia and got back on the road. Our Bulgarian friend, Nadia, had changed our plans for us and told us to visit her parents and brother in Velingrad - "they are expecting you". Unfortunately we didn't leave Sofia until after midday and it was well over 130km to Velingrad with a long 20km climb into the Rodopi mountains at the end. Plus the fact that we were all feeling dodgy and the route we took was sadly not "flat all the way" as we had been told, this was one of the hardest days of the trip so far. We finally arrived in Velingrad just as it was getting dark.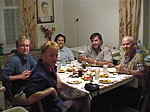 It was well worth the suffering though - Nadia's parents were fantastic hosts and we were persuaded to spend an extra day in Velingrad. To be honest, we needed a rest day too, because we were all suffering from the dreaded Bulgarian Belly by now. The next day Nadia's father gave us a guided tour of Velingrad, it's hot and cold springs, the surrounding hills and his very own carpet factory in the neighbouring village (www.hemus.bg). He makes high quality kilim rugs and carpets for stately homes and palaces all over the world.
The next day was the easiest of the trip. After Nino had fed us a huge lunch we headed for Plovdiv with a strong tailwind or downhill all the way. We found a campsite just outside Plovdiv and collapsed. Unfortunately it turned out that our campsite also operated as a brothel and the comings and goings of the night combined with our sorry health state made for an uncomfortable nights rest.
The next morning we made it into Plovdiv and were pleasantly surprised - the old town had a distinctly Mediterranean feel to it, especially when viewed from one of the three steep hills in the city that gave the city it's Roman name, Trimontium. Bulgarian Belly was certainly making it's presence known by now, and Adrian was suffering particularly badly. We struggled on however across the dry arid rolling hills just south of the Thracian Plain, and the next day we reached the Turkish border.
Things changed considerably as soon as we crossed the border - despite the mosques everywhere, the first city we arrived at, Edirne, felt like Western Europe again and everybody seemed much livelier - people seemed more busy and happier, and virtually everybody that passed us honked their horn and waved, even more than the Bulgarians! (However the prize for loudest honk so far goes to a Bulgarian train near Velingrad! Both the driver and passengers waved as it passed us.) Not only that, but we all felt a lot happier too - Bulgarian Belly seemed to disappear as soon as we crossed the border.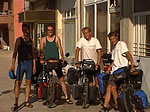 The next day we cycled together with two Belgian cyclists, Ronny and Bart, who we had met the night before in Edirne. They had already been on the road for six months (cycling through Eastern Europe and Russia) and accompanied us all the way in to Istanbul). The weather was incredibly hot and the road was pretty dull and frustratingly undulating. The Turkish drivers continued to be the friendliest yet, and the honks soon began to get a bit tiresome and annoying. After 4pm, however, we wished the overfriendly drivers would return - suddenly everybody started driving faster and more aggressively as they all wanted to get home from working at the textile factories that lined the Edirne-Çorlu road. Fortunately we had a gravel side road to escape into whenever the trucks and buses got too close.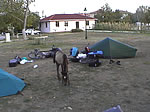 The following day we made it into the outskirts of Istanbul, but couldn't face the mad traffic to get to the centre so we found a campsite and relaxed for the afternoon. Unfortunately the campsite was directly underneath the flight path for Istanbul's Atatürk airport, a fact that became more worrying when we witnessed the shocking terrorist attacks on the US on Turkish CNN that night - I don't think any of us slept particularly well that night.....
So now we are in Istanbul waiting for visas and news on the growing crisis and which appears to be occurring directly on our intended route in Eastern Iran and Pakistan - the bordering areas of Afghanistan. Oh dear. It seems foolish to continue East of Iran as potential war in that area seems imminent. We are currently trying to figure out some alternative plans, knowing that we'll cycle further into Turkey and wait for further developments. Well, actually that's a lie - we are in fact just sitting around drinking çay, playing backgammon and eating Turkish Delight. It's a hard life, this overland travelling!


Total distance to Istanbul: 3562km. Click here to see the Progress Chart.