logbook

Update 7
Update 7 - Our own bush-tucker's update
From Çanakkale to Selçuk, West Turkey.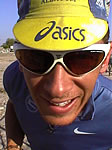 A big cheery Gday Cobber from Tom Ptak aka Aussie Tom. My part of this story started in Çanakkale where I was fresh from a tour of the gallipoli peninsula and I happened to bump into these three pommy lads who's cycle tour coincided with mine. After the usual chit chat and story swapping I decided to let these lads ride with me (am I convincing you?). I am part way though my Athens to Cairo spin and these boys trip has well impressed me to say the least.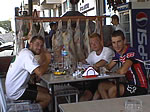 Anyway we all headed out of Canakkale together as a foursome due south towards Izmir and finally Selçuk approximately 400 km south. Highlight of the day was our restaurant for lunch. Not one for the faint hearted or for vegetarians as halfway through our meal a truck arrived and unloaded freshly slaughtered sheep carcasses, blood still dripping from the necks and plonked them right next to our table. Quality. Our camp that night fielded an unbelievable view over the ruins of Assos (temple of Athena) and the Greek island of Lesbos. Nice.
Tuesday was a standard 112km day of pedalling and Wednesday we headed inland and over some testing hills towards Bergama's Acropolis and ancient city of Pergamon. It was nice to be off the main road and cycling through forests even if it included some decent hills. The Ancient city was amazing and fielded great views of the surrounding countryside. Well worth the tough climb up to it.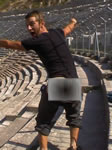 Thursday was our stretch into Izmir. The roads were very built up and busy and bad signage in Izmir made for loads of stops and asking for directions from the locals. Always great fun. Eventually made it to the highway only to be turned back at the toll booths by Uzi wielding police. We were escorted back to an alternative route by a detective in his 'Bergarac' esque car. How helpful they are. Eventually camped in a forest quite near the air path approach to Izmir airport.
Friday was our final day on the road and a quick run into Selçuk and a chance to get those rank clothes washed, those rank bodies showered and a nice cold beer into us. Good luck guys and I hope to see you in Goa for new years for some HUGE partying on those golden beaches. Look out for snakes, and as the crocodile hunter says..... 'Whoah look at his eyes.........'
Aussie Tom Signing off.


Total distance to Selçuk: 4248km. Click here to see the Progress Chart.